Planning Ahead
| | |
| --- | --- |
| December 11 | DINE OUT - Papa's Pizza |
| December 12 | Music Programs K & 1 - 5:30pm, 2 & 3 - 6:30pm |
| December 19 | Spirit Day - Cozy and Comfy |
| December 20 - January 5 | NO SCHOOL - Winter Break |
December Lifeskill Focus: Caring
Dine Out at Papa's Pizza!
Wednesday December 11th is Mt. View dine out at Papa's Pizza.  Plan to take your family out for pizza, hang out with other Mt. View families and view student artwork from Mt. View. A percentage of all proceeds from this dine out will go to Mt. View directly. Come join us! This is always one of our biggest dine out fundraisers, and tons of fun for the students!
Fall Music Program – Thursday, December 12, Grades K – 3
We have been working on many musical concepts this year including steady beat, rhythm, note-value and counting systems, note identification on the staff, musical stories and sound effects/background music, and playing instruments. We are turning our attention now to performance and singing. Please let me know if you have any questions or concerns.  I look forward to seeing you all at the concerts.
Kindergarten and 1st Grade     5:30 p.m.
2nd and 3rd  Grade:                     6:30 p.m.
Students should dress comfortably. 
I have created a website, designed to inspire your child's home-practice, musical exploration and creativity. Website:  https://rachelbeyer1.wixsite.com/music (Or you can access it through the Mountain View Website.  Go to the Staff Directory, scroll down to 'Specialists,' and click on View Website next to my name.)
This Week in PBIS (Positive Behavior Interventions and Supports)
Family conversation starter: Ask your child to tell you about Eagle Egg instant winners.
Eagle Eggs:  Did you know at Mt. View all staff pass out Eagle Eggs to students to recognize safe, respectful, responsible behavior?  Students write their names on the back and enter their Eagle Eggs into a weekly class drawing. Weekly winners get a certificate and a prize. Their photo also is added to our Eagle Egg Hall of Fame. Each week we collect all Eagle Eggs earned in a big container. We work together as a school to fill the container and earn an extra-long morning recess!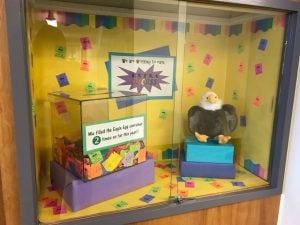 Instant Winner Week:  This week was our first ever Eagle Egg instant winner week!  Some Eagle Eggs had an eagle stamp on the back. Those "instant winner" Eagle Eggs were mixed in with our regular ones and given out randomly throughout the week. Students who received an instant winner got to take it right to the Nest to choose a prize!
Celebrations in Classrooms
We are implementing the district's Wellness Policy which will impact how we celebrate birthdays and special events around school.  If you have traditionally sent in treats with your child, please be aware that sugary foods such as cupcakes will no longer be allowed.  We know how meaningful birthdays are and we still look forward to celebrating with your child. Your child's teacher can discuss alternative options with you specifically, but below you will find several suggestions of non-food or healthy alternatives:
Birthdays and Holidays Without Food
Allow extra recess time instead of classroom party time. Birthday students can lead an active game for everyone.
Have dance parties. Birthday students can lead and pick out the music.
Instead of candy-filled birthday or holiday bags, have party bags with non-edible items (trinkets, school supplies such as colored pencils, erasers, markers, bookmarks, stickers, etc.).
Play special active party games. Birthday students can lead.
Read a book related to the party theme. Parents can purchase a book for the classroom or check one out from the school library in their child's name for their birthday and come to school to read the book.
Healthy Food and Beverage Ideas
Air popped popcorn (without the butter)
Fresh fruit assortments (store bought)
Fruit sundae bar party with fresh fruit, low-fat yogurt, and granola.
Vegetable trays (store bought)
This link will provide more information regarding the standards that our Wellness policy follows:
https://www.oregon.gov/ode/students-and-family/childnutrition/SNP/Documents/smart-snacks-for-the-school-nutrition-program%20rev%2020181218.pdf
If you have further questions or concerns, please feel free to contact the office.
Eagle's Mileage Club (EMC)
EMC needs your help! We are looking for parent volunteers to help punch mileage cards for our students at morning recess. Volunteer shifts are Monday, Wednesday, and Friday from 9:40-10:10. Sign up here: https://signup.com/go/eqvQPKG  or email our PE Teacher lynn.roylance@corvallis.k12.or.us. Thank you! As a school our students have already run over 130 miles! We have 5 students who have completed their 10 mile card, have their picture up on the wall and earned a 10 mile bracelet. Please come help cheer our students on.
December Tasting Tables Featuring Broccoli
Mark your calendars! At the December Tasting Table (December 11th and 12th), students at your school will have the chance to try locally grown Broccoli in a Broccoli Craisin Salad! Be sure to ask your child how they liked it.
If you'd like to learn more about Oregon Broccoli, check out the Food Hero Newsletter here:
English: https://foodhero.org/sites/default/files/monthly-magazines/Broccoli%20English%20Monthly.pdf
Spanish: https://foodhero.org/sites/default/files/monthly-magazines/Broccoli%20Spanish%20Monthly.pdf
If you have questions about the Corvallis Farm to School program, please contact McKenzie Rakes (McKenzie@CorvallisEnvironmentalCenter.org), Farm to School Coordinator.
Thank You
A big Mt. View THANK YOU to the fantastic volunteer crew from Life Community Church who spent a chilly Saturday morning spreading 20 yards of fresh bark on our track!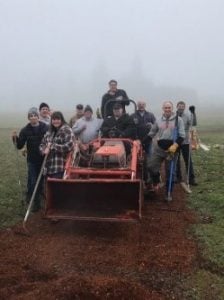 Thank you to everyone who attended the Mt View Harvest Carnival!! It was a great time! Thank you especially to the volunteers who donated their time and/or books for this event.  So much work goes into making this event successful for students and families, and we greatly appreciated everyone's help.  The classroom winner for the Harvest coloring contest was Ms. Drahn's kindergarten classroom – Congratulations on turning in the most color sheets!
Lost and Found
Our lost and found area in the cafeteria is starting to grow!  If your child is missing an item, please stop by during school hours (check into the office first).  During winter break, we will be donating all items that are left. It is a good idea to put your child's name on the item – it makes it so much easier to return it.
Clothing Needed
Our "clothes to borrow" inventory is getting low.  Donations of athletic type pants in gently used condition would be appreciated.
Community Flyers
Community Flyers are now shared on the Corvallis School District website!  Learn about programs, sports, and opportunities in our community.  Click the button below to view current flyers.
Stay Connected & Get Involved
There are so many ways to stay connected and get involved with Mt. View! We have our e-news that is delivered via email and our website.
For more information about volunteering at our school, please visit the district's website Volunteer page.
Mt. View is also active on social media